Mersey Care NHS Foundation Trust is committed to low carbon, sustainable healthcare. We recognise the relationship between our impact on the environment and the impact of climate change on public health and the services we provide.
As a large organisation within our communities, the Trust has a responsibility to undertake the actions and investments needed to provide sustainable healthcare, both now and in the future.
The Trust is taking action to respond to the 'Delivering a Net Zero National Health Service' report, as well as the Greener NHS Campaign, launched in 2020. As part of our journey to net zero and further sustainability, our Green Plan (March 2023) includes a timeline of tailored actions to complete over the next 3 years to align with Greener NHS guidance.
The priorities of NHS Cheshire and Merseyside ICS Green Plan will also reflected in the new plan, with a focus on improving our working environment through greenspaces, sustainability awareness, greener care practices, and resource efficiency.
Overall, our Green Plan aims to:
Reduce our carbon emissions
Improve resource efficiency and reduce waste
Improve our workplaces
Prepare for our future with climate change.
Developing and implementing this three year strategy will help the Trust keep on track to hit local and national targets and work towards our overarching target of net zero carbon by 2045.
Look out for our Sustainability Events and Workshops to get involved with our Green Plan.
Greener NHS event
A couple of weeks ago NHSE held a Greener NHS event showcasing the progress made across the North West on Greener NHS initiatives, - and highlighting that equality and Greener NHS go hand in hand.
If you weren't able to attend the event but would like to see what was discussed, you can watch a recording of the event on YouTube.
Batch Cooking is a great way to save time and money whilst reducing your environmental impact. It reduces the amount of food waste you produce and is a great way of eating healthier and controlling portion sizes. It is also a great way to use all those Chinese takeaway dishes you don't know what to do with!

Ditch the single use plastic – almost all of the plastic ever made still exists in one form or another. One reusable water bottle can save 52 plastic water bottles per person annually

Buying locally grown, seasonal produce greatly reduces your foods carbon footprint and is also a great way to support local farmers and industry

Walking or cycling produces zero carbon and has huge benefits to your physical and mental health. A car would need to reach over 200 miles per gallon efficiency to come close to walking

Simple changes like turning your washing machine to 30 instead of 40, reducing the thermostat by one degree and taking four minute showers instead of baths can reduce your carbon emission and save up to £250 a year

Single occupant cars produce two times more emissions than a bus per person. By taking the bus, you save money on parking and buses can often take you closer to where you want to be than if you went by car

Washing in the tumble drier can cost as much as 67p, this equates to up to £70 based on 2 loads per week. If possible, dry your clothes on the line to save money

Underinflated tyres can cost an additional 545 litres of fuel per year for a person doing the average mileage a year (12,000 miles). This is equivalent to 1.3 extra tonnes of greenhouse gases. Most vehicles display the recommended pressures inside the door frame or inside the glove box

Professional draught proofing can cost up to £225 but will save you around £125 per year. DIY draught proofing is much cheaper and is easy to do.
The smallest actions can make a difference
Let's celebrate Earth Day, 22 April, by doing our bit for the Earth. This year's themes include volunteering, find out what you can do for your local and global environment on Earth Day's website. Read more in our Green Plan, or sign up to our Green Champions by emailing sustainability@merseycare.nhs.net.
---
International Plastic Bag Free Day, 3 July
3 July 2023 is International Plastic Bag Free Day. Plastic bags may seem like a grocery shopping convenience, but they are also a huge strain on the environment. It can take up to 500 years for plastic bags to disintegrate, so they make up a large portion of what stays in our landfills and pollutes our waterways.
---
Recycling week
This recycling week, check out our dedicated recycling page on YourSpace to see what we recycle at the Trust. Why not join our green champions network to share your ideas and concerns around sustainability at the Trust.
Gift wrapping
In the UK, we use 227,000km of wrapping paper each Christmas, this is enough to circle the earth 5.6 times! Most of this wrapping paper is not recyclable as it is plastic, foil or glitter.
Here are some tips to be more sustainable:
Use string rather than sticky tape to wrap gifts
Gift bags can be re-used time and time again
Reduce, reuse, recycle! Reuse old magazines, comics, newspaper or fabric to wrap gifts to add some personal flair.
Remove sticky tape before recycling wrapping paper so that Merseyside Recycling will be able to process it (What Can Be Recycled? - Merseyside Recycling and Waste Authority)
Food
About five million puddings, two million turkeys, and 74 million mince pies go to waste each Christmas. Help reduce greenhouse gas emissions and protect our natural resources by thinking carefully about how much food you buy this festive season.
Choose seasonal and local grown vegetables
Choose free range meats, where affordable.
Christmas tree
If you're looking for a sustainable Christmas tree that's been grown using fewer pesticides, your best bet is a Forest Stewardship Council (FSC®) certified, or a Grown In Britain tree. According to the Carbon Trust, a two-metre artificial tree has a carbon footprint of around 40kg, more than ten times that of a real tree that's burned after Christmas.
Check to see if your local council recycle it, if you can pop it in your garden waste recycling bin. Alternatively if you, or someone you know has a wood burner (and the storage space) the branches give off a lovely smell and crackle and pop if you put them in with your other logs. Some garden centres offer a "return and recycle" where you can exchange your tree for a money off voucher or a small refund.
Sponsor a Tree at the NHS Forest this winter as a gift and receive a Christmas card to print and send to a loved one Sponsor a tree.
Energy
In the UK, we spend around £1 million on Christmas day just powering our TVs. In fact, we watch so much TV on Christmas day, the energy used could power 43,000 TVs for one year!
When cooking your Christmas dinner, turn your heating down or off, plenty of heat will already be circulated around the house!
Switch off appliances when you're not using them, or visiting friends and family. Having items on standby still uses electricity. This will help save energy, money and reduce your household carbon emissions.
Children's Sustainability and Nutrition Materials
Sustainability is a big concept for children to understand. But it's important to teach them what it means and how to contribute to helping the environment and the planet. Start by modelling the basics, such as minimizing your rubbish (the first "R" in the "Reduce, Reuse, Recycle" sustainability mantra!) and planting and watering your own vegetables. See the attached document for what you will need.
To show the ways which we can reuse items and teach children about eating a varied diet, try this activity to grow your own veg with used glass jars and household items:
1. Find a glass jar or plastic tub from your recycling and buy some cress seeds from a local garden centre.
2. Line the bottom of your jar or tub with paper towels or cotton wool.
3. Sprinkle your cress seeds over damp tissue or cotton wool.
4. Cover with cling film or a tea towel and keep the cotton or towels moist by sprinkling water on twice a day.
5. Cress seeds can germinate within 24 hours.
6. Within five to seven days your cress will be ready to snip into sandwiches.
One different way to recycle our waste is through composting! Composting isn't just environmentally friendly; it's also a cool science project. Keep the bin outside and follow this quick how-to:
1. Line the bottom of the bin with twigs, top them with leaves, and add some water.
2. Add food scraps such as carrots, potato peels, apple cores, coffee grounds, eggshells, and bread crust on top of the leaves, and again, add some water.
3. Alternate leaves and food scraps a few times.
4. Once the bin is full, mix everything around each week.
5. Observe how everything changes and starts to break down.
6. After three to 12 months, use your compost in the garden or potted plant.
Introducing sustainability through helping with chores:
Washing clothes. Showing them how to load and unload the washing machine is one thing, but as they grow up and start to learn numbers and words, why not try getting them to turn the washing machine on 30°C?
Use it as a chance to explain about sustainable fuels and saving energy.
Pack groceries into reusable bags. This is an easy change to make, and you can get some cotton carrier bags to replace the plastic ones! Get your children to help with the shopping, explaining how plastic bags ending up in landfills and oceans is causing harm to the planet.
Ask them to help with the recycling. From taking empty cereal cardboard to the recycling bin to donating old clothes to charity, there are plenty of ways they can help. You can also teach them to put banana skins, eggshells, apple cores and more in a food waste bin instead of the rubbish bin.
See the below image for planet friendly habits to teach children.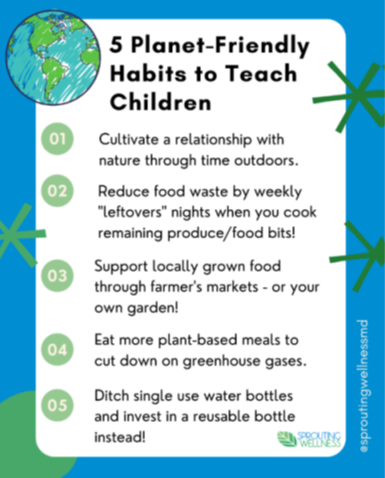 The former HMP Kennet kitchen was recently cleared and we have effectively prevented 5,903kg of valuable materials (wood, foam, plastics and metal) from being discarded in landfills.
We have repurposed these materials as energy from waste, biomass fuel, and directly recycled for the manufacturing industry. Also, by diverting these materials from landfills, we have reduced the amount of waste that ends up polluting our environment and contributing to greenhouse gas emissions.
We are proud to play a role in creating a more sustainable future, and we will continue to prioritise recycling as a key part of our efforts to minimise our environmental impact and delivery of our Green Plan.
We are committed to reducing our environmental impact and understand that everyone must make a change to contribute to sustainability. One way to stay healthy and reduce carbon emissions is to cut down on meat and animal products in our diet, as livestock accounts for 16.5% of global greenhouse emissions. A great way to cut down is to reduce the amount of days per week you consume meat, for example trying 'Meat Free Monday'! See below for more information and tips.
Veganuary
As we begin 2023, many of you will be considering making some New Year resolutions. This year, why not take the 31-day Veganuary pledge and try a vegan diet for January and beyond. Animal agriculture is the leading driver of the climate and ecological crises. With animal products accounting for 57% of all food related emissions and agriculture using 77% of agricultural land globally, this is an area where we can all help and make a difference.
Adopting a healthy vegan diet is the single most impactful action you can take to reduce your personal carbon footprint whilst improving your personal health and well-being and reducing animal suffering.
Veganuary is a non-profit organisation that encourages people worldwide to try vegan for January and beyond. During the 2022 campaign, more than 620,000 people took the pledge to try a vegan diet.
Mersey Care is getting involved with Veganuary this year, offering a different vegan dish every day for two weeks starting from the 9 January, available across our cafes and bistros. These specials will range from hot meals to sandwiches and paninis – make sure you don't miss out!
Recipes
Send in your own vegan recipes for us to share on this page via sustainability@merseycare.nhs.uk or check out Veganuary or BBC Good Food for inspiration!
Pledge
Make a pledge to eat only vegan food this January – any reduction in the amount of meat and dairy consumed makes a difference to reduce emissions! Add Veganuary to your New Years Resolution and sign up here Try Vegan With Us | Vegan Challenge | Veganuary for resources and encouragement this January.